Summit At Sea
---
INTERNATIONAL WATERS, PORT OF MIAMI
MAY 18-21, 2023
Get a taste of the harmonizing, energizing, restorative and inspiring flavor of the sea.
Our Greatest Adventure Reimagined.
The sea is harmonic and regenerative and thus the perfect place to let loose, expand, float and fly.
We invite you to join us in a mind-expanding, immersive Summit where we will gather, share, expand, grow and play … together.
Six pillars of programming from talks, health and happiness, visual and performance art, culinary experiences and impact.
---
Summit at Sea is a multidisciplinary experience designed to foster deep connections within our community of amazing like-minded people.
Talks
Culinary
Art
Performance
Wellness
Impact
OUR LINEUP OF INCREDIBLE THOUGHT LEADERS, MUSICAL AND VISUAL ARTISTS, HEALTH AND HAPPINESS EXPERTS
Simon Sinek
THE UNSHAKEABLE OPTIMIST
Leadership expert who gave one of the most popular TED talks of all time.
Dr. Craig Venter
Founder, Chairman & CEO, The J. Craig Venter Institute
One of the most influential scientists of the 21st century known for leading one of the teams who sequenced the first draft of the human genome.
Hank Willis Thomas
Artist
Artworks include "The Embrace," a memorial to Dr. Martin Luther King Jr. and Coretta Scott King on Boston Common and "Opportunity (reflection)," which was at Super Bowl LVII.
Meredith Whittaker
PRESIDENT, SIGNAL
Vocal critic of big tech and the first president of the encrypted messaging app, Signal.
Stefan Sagmeister
DESIGNER
Two-time Grammy award-winning graphic designer whose client list includes HBO, The Rolling Stones, and the Guggenheim.
Astro Teller
CAPTAIN OF MOONSHOTS, X
Oversees X, Alphabet's moonshot factory for building magical, audaciously impactful ideas that, through science and technology, can be brought to reality.
Baratunde Thurston
HOST & EXECUTIVE PRODUCER, HOW TO CITIZEN PODCAST & PBS AMERICA OUTDOORS
Writer, producer, and sometimes-comedian who explores themes of democracy, technology and the natural world.
Miss Velvet
LIVE PERFORMANCE
A rock 'n roll icon with an electrifying sound that channels classic rock legends like Mick Jagger, Janis Joplin and Robert Plant.
Dr. Mark Hyman
Founder, UltraWellness Center; Head of Strategy and Innovation of Cleveland Clinic for Functional Medicine
Dr. Mark Hyman diving deep on the Future of Our Medical System.
Barry Sternlicht
Chairperson, Starwood Capital Group
The most storied hospitality executive of all time.
Dr. Doris Taylor
CEO, ORGANAMET BIO INC.
The cell therapy pioneer bringing organs back to life.
Dr. Stephanie Kelton
Former senior economic advisor to Bernie Sanders' 2016 and 2020 presidential campaigns
Leading expert on Modern Monetary Theory.
Chambord
LIVE PERFORMANCE
Paris-based DJ duo creating melodious sounds influenced by world music mixed with electronic and hypnotic atmospheres.
Bender
Live Performance
From New York to LA, Ibiza to Brazil, meet the world's most famous DJ you've never heard of.
Tristan Harris
CO-FOUNDER & EXECUTIVE DIRECTOR, CENTER FOR HUMANE TECHNOLOGY
The tech ethicist working to keep extractive technology from hijacking our brains, behaviors and beliefs.
Dr. Thomas Zurbuchen
Former associate administrator for the Science Mission Directorate, NASA
The longest serving science director in NASA's history.
Jaiya
FOUNDER & CREATOR, THE EROTIC BLUEPRINT BREAKTHROUGH
Join somatic sexologist Jaiya for a much-anticipated revival of their one-of-a-kind joint workshop on intimacy, pleasure and eros.
Blaq Pages
DJ SET
Uniting the African diaspora through sound.
Nasreen Sheikh
FOUNDER, EMPOWERMENT COLLECTIVE
Activist and survivor working to eradicate modern-day slavery and fast fashion.
Kiko Dontchev
VP of Launch, SpaceX
Leading SpaceX effort to make launch rockets as everyday as air travel.
Viken Arman
Live Performance
Creative traveler from the Caucasus Mountains fusing ancient melodies with electronic beats that bring rich cultures together in mystical musical journeys.
Dr. Peter Attia
Founder, Early Medical; Host, The Peter Attia Drive Podcast
Dr. Peter Attia will be sharing his wisdom from his groundbreaking guide to longevity.
The Mauskovic Dance Band
Live Performance
Amsterdam-based multi-instrumentalists making a uniquely hypnotic groove.
Hayes Barnard
Founder, Chairman & CEO, GoodLeap
Career entrepreneur pioneering the adoption of clean technologies by connecting millions of consumers and contractors to help everyone live more sustainably.
unders
DJ SET
Known as a passionate ambassador of the global dance community, unders brings a slick touch that drives an otherworldly original house music sound.
Dr. Sam Rader
CREATOR, SOURCE CODE
Dr. Sam Rader will share her approach to healing that uncovers the secret algorithms that run us.
Deer Jade
LIVE PERFORMANCE
Blurring the lines between planet earth, the cosmos and ourselves.
George Church, Ph.D & Ben Lamm
Geneticist; Founder & CEO, Colossal
The serial entrepreneur and genomics pioneer teaming up to bring back extinct species.
DJ Spinderella
DJ SET
Grammy award-winning DJ, producer, rapper and writer.
Jerry Colonna
Founder, Reboot.io
Silicon Valley's favorite Buddhist Executive Coach.
Geena Rocero
Filmmaker & Author, "Horse Barbie: A Memoir"
On the ship, Geena will explore the complexities of identity, intersectionality and activism explored in her poignant memoir.
DJ Green Lantern
DJ Set
World-renowned DJ and producer most known for his collaborations with Eminem, Jay-Z, Nas and Snoop Dogg.
Upendo Taylor
VISUAL ARTIST
Celebrated artist, designer and creator of the Doodle Gang Workshop, a unique facilitated process which brings out the inner artist in every participant.
Radha Agrawal
FOUNDER & CEO, DAYBREAKER - TEACHING D.O.S.E
The movement and mindfulness practice to unlock our four happy neurochemicals (dopamine, oxytocin, serotonin and endorphins) naturally.
The Great Bingo Revival
LIve PErformance
The ultimate funk and soul experience featuring music, dance, comedy and 100% unadulterated BINGO.
Amy Purdy
SURVIVOR, 3X PARALYMPIC MEDALIST, NY TIMES BEST-SELLING AUTHOR, CO-FOUNDER, ADAPTIVE ACTION SPORTS
One of the most-decorated adaptive snowboarders in the world.
Crussen
Breathwork Practitioner
A lighthearted and multi-faceted breathwork experience. Traversing realms of breath, mind and music all in the service of the fundamental mystery of being alive!
Jessica Encell Coleman
Founder and Creator, The Magic of Human Connection
Jessica Encell Coleman returns to Summit with her signature session to create a powerful sense of depth, joy and belonging among its participants.
Tom Chi
FOUNDING PARTNER, ONE VENTURES; FOUNDING TEAM MEMBER, GOOGLE X
Tom Chi is now focused on helping humanity become net positive to nature by investing in deep tech that can disrupt the planet's most damaging industries.
IN-Q
SPOKEN WORD POET
Award-winning and emmy-nominated poet, Multi Platinum songwriter, author of "Inquire Within", National Poetry Slam Champion, and the first spoken word artist to perform with Cirque du Soleil.
Grilo Preto
Teacher & Mestre of Capoeira
Movement to discover, develop and reflect a sense of self mastery.
Bob Roth
CEO, David Lynch Foundation
Leading expert in Transcendental Meditation.
The Palms
LIVE PERFORMANCE
Acclaimed Indie duo fusing their love of pop music with hints of West Coast psychedelia, hip hop, folk and more.
Dr. Robin Carhart-Harris
PROF. OF NEUROLOGY & PSYCHIATRY, UCSF; DIRECTOR OF PSYCHEDELIC DIVISION, NEUROSCAPE
One of the leading scientists studying the effect of psilocybin on the brain.
Gaby Endo
DJ SET
Brazilian-Japanese DJ whose ethereal and energetic rhythms harness the power of music transcendence.
Dr. Nikki Mirghafori
AI Scientist & Buddhist Teacher
Artificial intelligence scientist turned Buddhist teacher, specializing in the mindfulness of death.
Brian C. Muraresku
Author, The Immortality Key: the Secret History of the Religion with No Name
A lawyer and classicist, who explores the hidden role of psychedelics in the ancient world and early Christianity.
Reggie Hubbard
Founder & Chief Serving Officer, Active Peace Yoga
Reggie will be leading us in yoga that inspires clarity, compassion and creativity.
Illich Mujica
DJ SET
Weaving cosmic and uplifting melodies with grounding Latin American beats.
Taran Emmert
Sound Healer
Multi-instrumentalist exploring the healing power of sound.
Gator Halpern
Co-founder, Coral Vita
Entrepreneur working to restore our world's dying coral reefs and co-creator of the world's first commercial coral farm for reef restoration.
Neil Frances
Live Performance
Neil Frances will be bringing their vibey pop-infused sound to the Summit At Sea musical stage!
With Gratitude To Our Partners
"One doesn't discover new lands without losing sight of the shore."
1,900 leading creators assembled by invitation from around the world. At sea for three days of dynamic experiences.
After years of gatherings, there have been few environments more optimal for authentic connection and adventure than the open sea.
Raise the anchor and let's set sail on a spectacular journey across the high seas.
Our preeminent Summit at Sea adventure is back in partnership with Richard Branson's Virgin Voyages!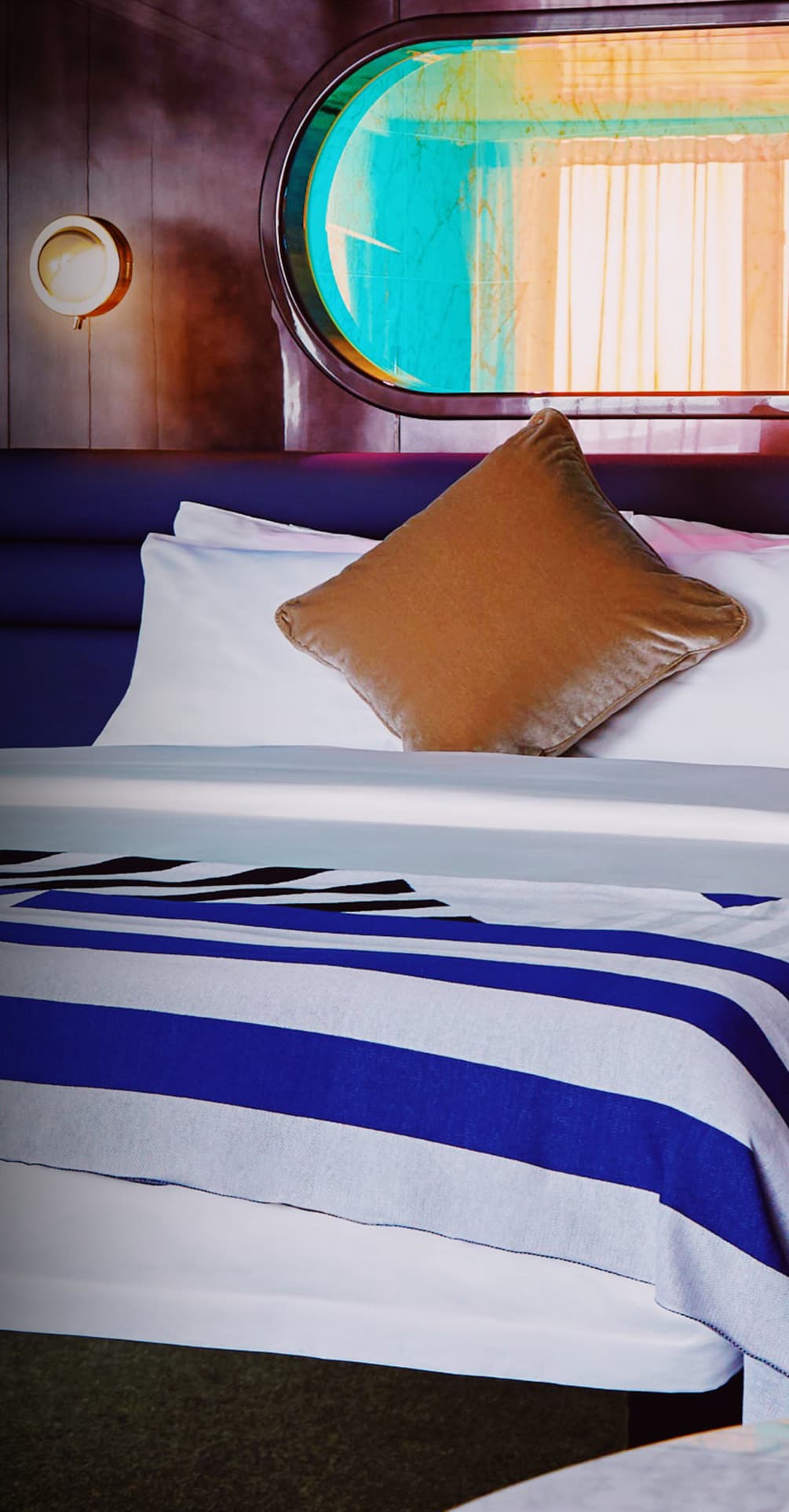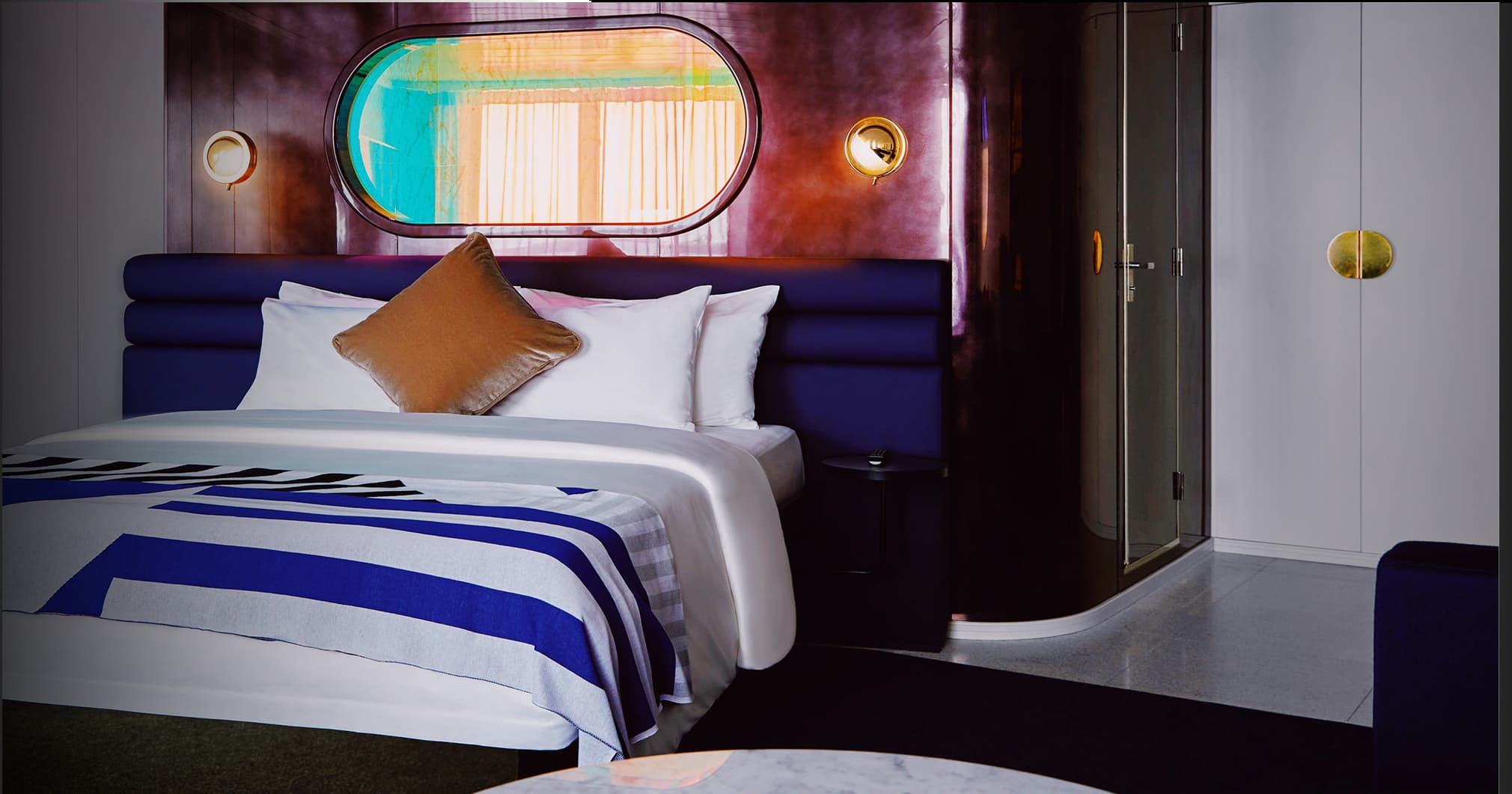 Peekaboo Bedroom
Posh Suite Bathroom
Massive Suite Terrace Jacuzzi
Massive Suite Main Bedroom
Massive Suite Bathroom
fab and posh suite terrace